Around twenty years ago, public transport in London suddenly got much, much better. The tube and the buses, which had been neglected for decades by central government, improved remarkably – especially the buses. Of course, London's transport was always (even per capita) better than that of the rest of urban England. This was helped by the fact that the Thatcher and Major governments had exempted it from the worst – they had not privatized the Underground, and while they had privatized the buses, a clause had left the capital's buses to be publicly regulated. I moved to London in 1999, and even then, at the start of the New Labour boom, you could still feel the neglect, a dereliction that had been lethal in the Kings Cross fire of 1987, caused by uncollected rubbish under a wooden escalator. Aside from the somewhat toy-like light railway across the redeveloped Docklands, new transport construction hadn't kept pace with the sharp increase in the capital's population. And then in a few years, everything changed.
This is owed, it is worth remembering, to Ken Livingstone, in his two terms as Mayor of London. While his record on housing and planning was poor, despite all the socialist rhetoric, on transport Livingstone kept his promises. The buses were turned around, recognized as the main mode of transport for working-class Londoners; fares were kept far lower than in the rest of Britain. Under Livingstone's watch, Herbert Morrison's nationalized company, London Transport – rebranded as TfL, Transport for London – introduced the Oyster card, battled with Gordon Brown's moronic plans to privatize the tube, pointedly powered the buses with Venezuelan oil, and began to take ineptly-run privatized heavy rail lines under its control, in the public-private London Overground, making an immense difference to tubeless inner boroughs such as Hackney and Lewisham. But the most visible transport improvement actually had nothing much to do with Ken's long-term project to democratize London's transport, which dated back to 'Fares Fair' at the Greater London Council.
The Jubilee Line extension, doubling the size of a truncated 1970s tube line and opened by London Transport in 1999, was a wild contrast with the miserable shabbiness and poor service provided by now-forgotten privatized companies such as Connex and Silverlink. Directed, architecturally, by the Hong Kong Metro's architect Roland Paoletti, it captured a generation of British designers who were then more likely to be employed abroad than at home at their peak. It was the most impressive public transport achievement in London – in Britain – since London Transport's 1930s heyday under the Christian Socialist bureaucrat Frank Pick and architect Charles Holden. The Jubilee extension's stations are among London's finest buildings, from Hopkins's concrete Carceri at Westminster to Foster's cavernous Canary Wharf to Richard McCormac's delicate Southwark.
But it was expensive, very expensive indeed – a bizarre anomaly in the decade that John Major brought in the Private Finance Initiative. Nothing like it would be tried in TfL's building projects under Livingstone, particularly the new Overground stations on the rebuilt East London Line, such as Shoreditch, Dalston Junction, Haggerston and Hoxton. The point was to sort out long-running problems and get things done quickly, cheaply and unfussily, as in similarly tightly-budgeted northern projects of the era like the Sheffield Supertram or the Manchester Metrolink. One can maybe praise the intent, but the results on the now extensive Overground can be a little grim – no toilets in the stations, staffing often an optional extra, adding up to a line which mostly ignores (and is, in turn, seldom used by) the elderly, those with children, or those with disabilities. Then came another patch-up job, this time by Network Rail, the extension and rebuilding of the 1980s Thameslink heavy rail network, which involved an ingenious, if cramped new station balanced atop the Victorian Blackfriars Bridge. It was completed a couple of years ago with little fanfare.
Well, the now finally opened Crossrail has a lot of fanfare. It is the one major British public transport project of the 21st century to have escaped Gordon Brown's parsimony and George Osborne's axe (unlike mere trams in Leeds, Liverpool and Portsmouth-Southampton), and though planned decades ago, it was commenced under Livingstone in 2007, and obsequiously renamed under Boris Johnson the 'Elizabeth Line'. Above all else, it is emphatically not cheap or ad hoc. It was, notoriously, constantly delayed and subject to cost overruns, but now you can explore it with your Oyster card, you can see where a lot of the money went – into space.
It is hard to overstate how much of a shock it is to go from either the Victorian cut-and-cover brick vaults of the District and Circle, or worse, the claustrophobic, meanly proportioned deep-level tubes built by the American robber baron (and allegedly, partial Citizen Kane inspiration) Charles Tyson Yerkes like the Central, Northern and Piccadilly, into these gigantic stations. The proportions and depth – not to mention the mood-lighting – evoke the Soviet transport systems in Kyiv, St Petersburg and Moscow, as does the strict restriction of advertising. Similarly Soviet are the long, long escalators in stations such as Tottenham Court Road, which take a good two or three minutes to travel up, and are tough on the acrophobic; below, cathedral-scale central vestibules link the platforms. A common aesthetic underground has been created by the lead architects, Grimshaw, a 1980s boutique high-tech firm turned global conglomerate; a great deal of fun has been had with concrete panels, shaped into forms both mass-produced and organic, especially delightfully around the archways towards the platforms and escalators.
With its long tunnel through almost the entirety of London's Zones 1 and 2, end to end from Paddington in the west to Canary Wharf in the east, this is heavy, expensive, grandiose engineering, a return to the Jubilee extension's drama, its richness, and its arse-kissing nomenclature. But architecturally, it isn't as original or personal. Stations are richly provided with diverting abstract artworks, interesting concrete surfaces, accessible lifts and, crucially, toilets (something far too often absent on the tube), but there's no stand-out work of spatial flamboyance like Foster's Canary Wharf or Hopkins's Westminster. Surface stations are boxy, and carried out either by the Overground's designers Weston Williamson, or by very safe British/multinational firms such as Aedas (Farringdon), Hawkins/Brown (Tottenham Court Road). Their work here is powerful, but there's nothing fancy. Outlying stations that have been bolted onto earlier sets of platforms and buildings, such as Southall in the far west and Abbey Wood in the far south-east, are big, airy and functional, but that's as far as it goes.
Crossrail has been trumpeted as something new in the world of transport, but that's not quite right. If the Overground is an S-Bahn and the Docklands Light Railway a Rhine-Ruhr style Stadtbahn, then this, like the earlier, less heralded Thameslink reconstruction, is London's Parisian RER, with a fast service in the centre and dozens of stations stretching a spider's web right out across the Banlieue. What this means is that the focus that there has been on the photogenic inner-city tunnel – and the fact that most new London transport infrastructure since the 1980s has been about connecting the docklands of the inner east and south-east to the centre – obscures that this is very much a suburban line, which will be mostly used not by people in Whitechapel or Paddington, but in Ealing, Acton, Thamesmead, Ilford and Romford.
This should not be odd – London is still a mostly suburban city, and its suburbs are in many cases as multicultural and firmly Labour-voting nowadays as Lambeth or Tower Hamlets – but it means that a journey across the whole network is quite different to one across the Jubilee extension or the Overground, which move between recently fashionable zones such as Peckham and Hackney (the line from Clapham to Dalston on a Friday night is always crammed to bursting with young professionals on the razz) or high-density, Shanghai-in-the-drizzle new districts such as the Olympic Village or the Royal Docks. It may pass through Whitechapel, Forest Gate and Stratford, but Crossrail is really about Southall, Romford and Thamesmead. Not only that, it links Berkshire to Essex, encompassing such unlikely places as industrial Slough, the relatively self-contained sunbelt town of Reading, Theresa May's constituency in quintessentially bourgeois Maidenhead, the classic multicultural London suburbia of Ilford, the edges of the London County Council's sprawling Becontree estate at Goodmayes, the lush garden city of Gidea Park, and finally Brentwood, with its Barratt Homes Cathedral by Quinlan Terry. All these have been dragged forever into the tube map, and hence into 'London'.
For the moment, to explore the full line, you have to get off at the big termini of Paddington or Liverpool Street and walk across their concourses to take the Elizabeth Line trains that were temporarily branded 'TfL Rail' while Crossrail was being delayed – the full service will open only later in the year. But the network makes sense not as a line from Paddington to Abbey Wood, but only if seen as a whole. That is, as a project to unite London's two major outward growths since the 1970s. One is along the Thames Valley/M4 corridor route of high-tech affluence. It is easy to imagine future extensions that will bring Oxford and Swindon into the tube map, maybe even Newport and Cardiff, in the same way that Bratislava appears on Vienna's transport map.
The other is the 'Thames Gateway' to the east, a swathe of post-industrial dereliction towards which capital has had to be forcibly directed, from the London Docklands Development Company to New Labour's Urban Renaissance and Livingstone's Olympic Village, clownishly 'delivered' by his Tory successor. It is, as mentioned, this eastern zone which has seen the most new transport investment in the last four decades, in order to make these contaminated wastes with adjacent council estates into places attractive to investors and employers. In the process, the more westward expansion of London has been relatively neglected, especially by geographers and psychogeographers. Post-industrial West London is less gentrified than anywhere else in the capital, and immense sites such as Park Royal, once the largest industrial area in the world, are off very many Londoners' mental maps. Hipsters seem to face a forcefield just before entering the London Borough of Ealing, and the 'creative class' are conspicuous by their absence in Slough and Southall.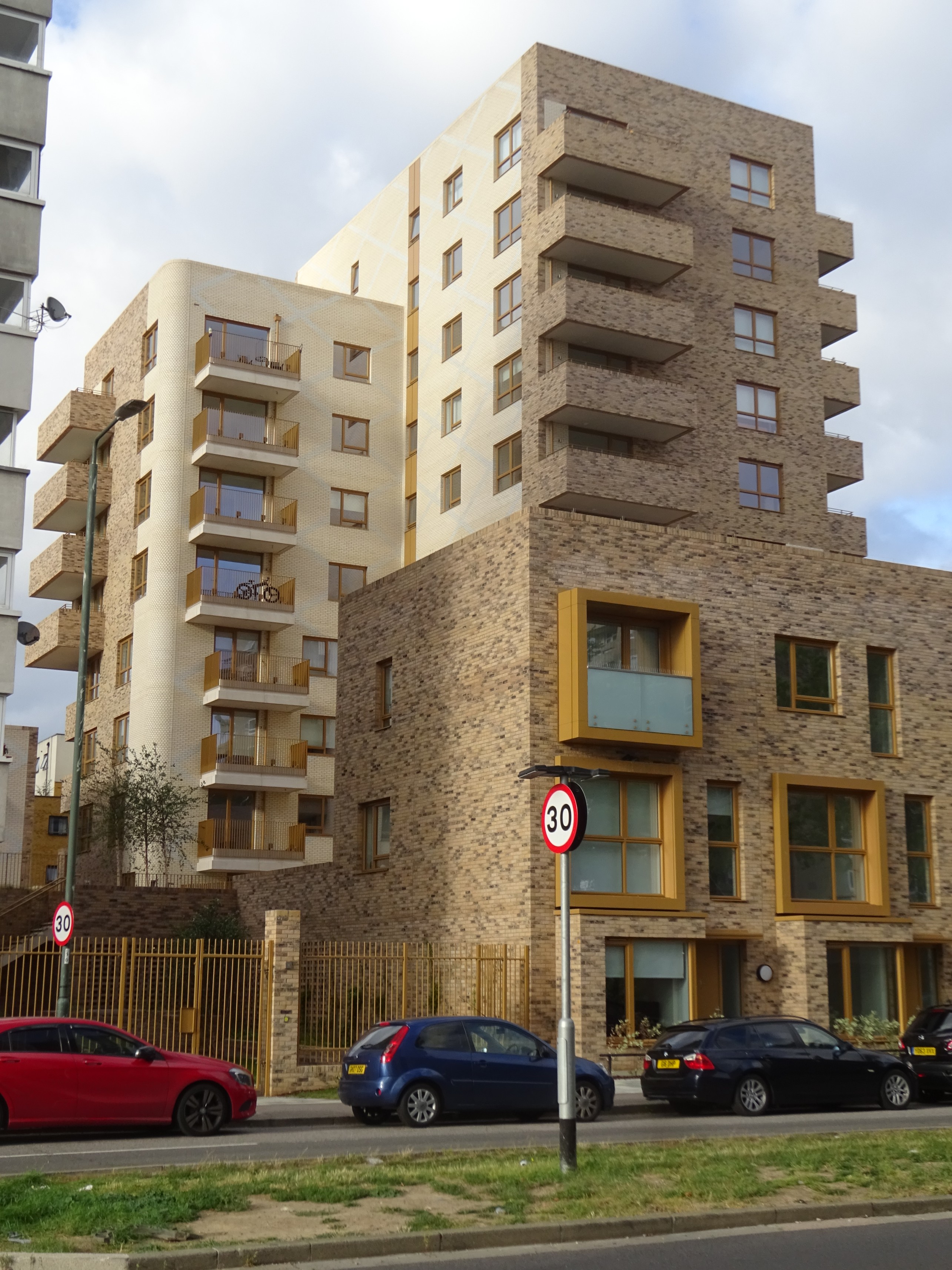 Stay underground, or on the train, and Crossrail is an eminently rational project, and it should hopefully have the effect of making the miserably overcrowded Central and Jubilee lines more pleasant for human beings to use. It will also make it much easier to get into town if you live in extremely un-'regenerated' areas such as the post-industrial Punjabi heartland of Southall or the GLC's forlorn but beautiful lakeside New Town at Thamesmead, served by Abbey Wood station. Yet there's no getting away from the role of property in all of this. Housing and office development has been part of London Transport from the start. The Metropolitan Line and its property development arm created the Mock Tudor suburbia of 'Metroland', in what was once the county of Middlesex, but since the '60s has consisted of the London Boroughs of Hillingdon, Hounslow, Harrow, Ealing and Brent; Frank Pick got in on the act at Golders Green and Edgware. Even after nationalization, some of Charles Holden's most beautiful stations, such as Oakwood in Enfield, were built in open country to stimulate development, which meant commuters buying season tickets, which meant much-needed revenue – unlike many transport networks in big capital cities, London Transport has usually been expected to make a profit.
So there are a lot of really very nasty new spaces that have cropped up as a result of Crossrail. The most notorious is at Tottenham Court Road, where genuinely much-loved places, crucial to the history of London's popular music, like the Astoria on Charing Cross Road and the music shops and gig venues of Denmark Street, have been either replaced or dwarfed with a series of frankly hideous, funereal black office blocks; the area is surreal enough as it is, and a new entrance mid-way along Oxford Street spits you out into an increasingly bizarre thoroughfare dominated by semi-legal 'American-style' sweet shops, many of which have just been raided by police in the aftermath of the Conservatives losing control of Westminster Council for the first time.
Further west – skipping over the still-unopened Bond Street station – the new Paddington station is very convenient for the canalside kipple of Paddington Basin, a particularly bleak office district between the waterways and the start of the Westway. Farringdon station's entrances are adjacent to massive, boxy, squat offices which will have helped pay for the whole thing. However, this isn't the case everywhere. Whitechapel, designed by BDP, is a minor revelation, scooping out a formerly grossly dilapidated station via an enclosed glass bridge, the entire complex construction hidden behind the original Italianate frontage of 1876; and rather than the border of new offices at Farringdon or Tottenham Court Road, you're thrown right into the electricity of Whitechapel Market, an enduringly working-class space, with the glass skyscrapers of the City in the near distance. The closest of these is One Commercial Street, the subject of a notoriously dystopian marketing video. It is still blackened and scarred by a recent fire, a little reminder of how many of London's 'luxury flats' are unsafe.
One stop from here is Canary Wharf, the malevolent heart of financial London and, deeply unexpectedly, the most delightful of all the new line's spaces. The station platforms are fairly ordinary, but everything else about it is mindboggling. From the existing DLR and Jubilee Line stations you enter through a long overhead walkway, dressed in pulsing bright colours by the artist Camille Walala, into Crossrail Place, a long complex of restaurants, designed by Foster and Partners, with a roof garden on top. It is one of that firm's most unusual London projects in a while, its bubbling timber and teflon structure evoking Norman Foster's one-time enthusiasm for the work of Buckminster Fuller; the garden itself is both banal and utopian, verdant and eerily calm above the station and beneath the skysrcapers. The Ballardian undergrowth leads to a Sports Bar. Rather than 'Dubai-on-Thames', this is more Singapore on the West India Dock: a strictly controlled and policed yet fascinatingly odd balance of nature and technology. But the fact remains – stations mean development.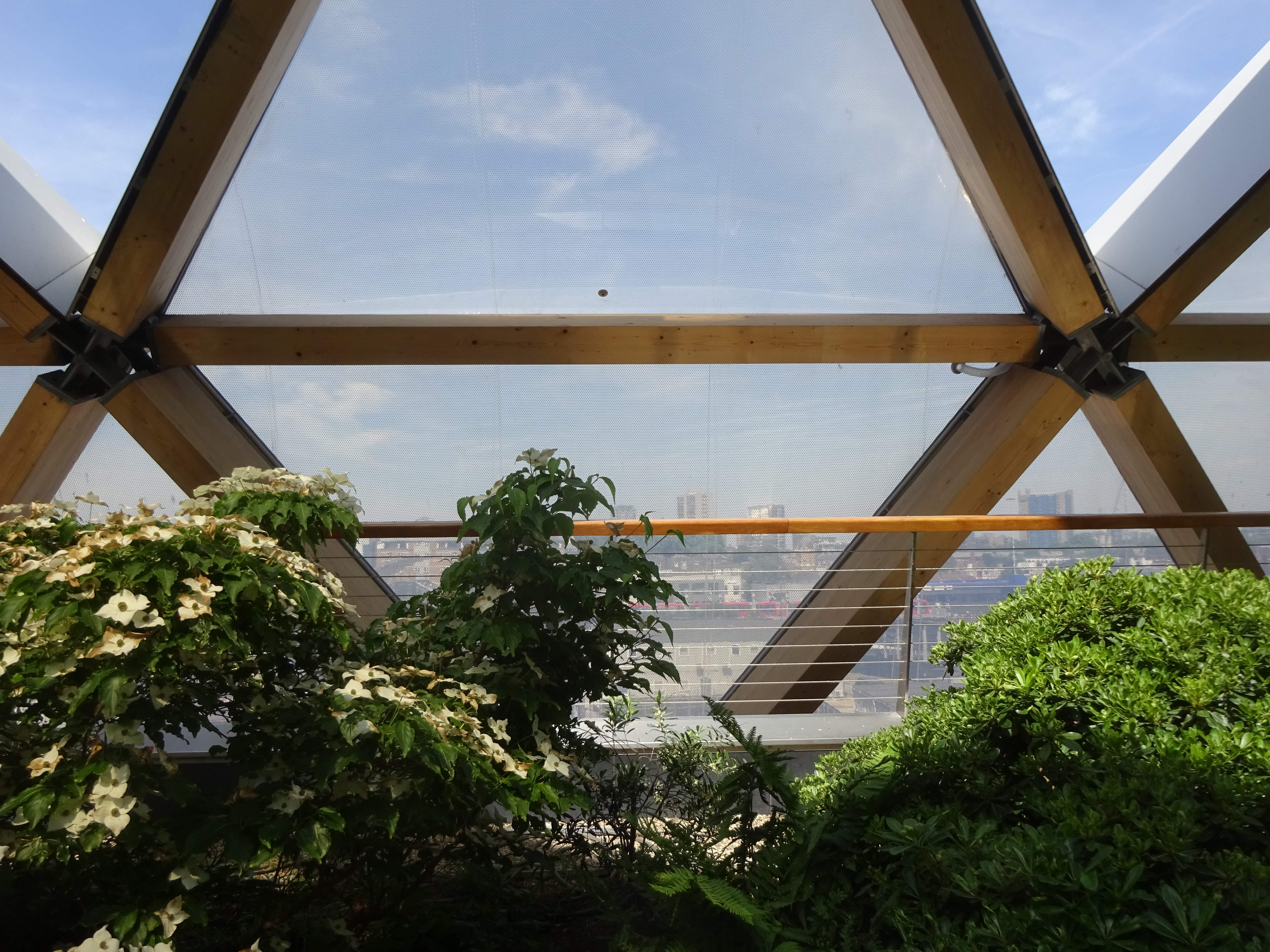 This is the reason why many Londoners secretly resent the project. Irrespective of the many people taking photographs of the new stations and the new tunnels (they're still doing so, several weeks after opening), everyone knows property values are going to go up, up, up, in the places that are made newly accessible. Woolwich, the industrial suburb that has long been one of the cheapest places left to live in London, is going to be almost as accessible from central London as Fulham or Clapham. The kitsch, bricky redevelopment of the 18th century Royal Arsenal complex was already a place apart in Woolwich, feeling wholly separate from this working-class Cockney, West African, Somali and Latvian district. In the six years I lived there during the 2010s I watched that development spread along the river, but it was always constrained by the arterial road that cut it off from the suburb's centre; at rush hour, Woolwich would suddenly become whiter and more affluent than it was during the rest of the day, but the effect would quickly disappear.
Woolwich's Crossrail station, substantially funded by the developers, is actually in the Arsenal itself, on a square with the Airstrip One-style name of 'Victory Parade', but we can now expect the overpriced brick high-rises of the Arsenal to expand into the entire rest of the place, making it newly unaffordable. Luring bourgeois residents over the dual carriageway into Woolwich proper right now is something called the Dreamachine. Around five years ago, when I was last in the covered Public Market, the space was occupied by the likes of the Boss Revolution internet cafe next to Silverrite & Lady T's Catering Service Cakes and Decoration. Well, until late July it contains an experiment in psychedelic 'Deep Listening', a slice of Altered States opposite a high-rise Little England.
A similar process is likely to happen at the Olympic Site. Crossrail makes Stratford, once a very mundane East End area, even more spectacularly well-connected. Irrespective of septic leaks, buildings granted by the Olympics such as Zaha Hadid's rather glorious London Aquatics Centre are actually very well used by people from across London's multiple fault-lines, but that balance can't be sustained forever. A couple of stops away is the adjacent suburb of Forest Gate, the working-class area whose inequalities of race and class are heartbreakingly brought out in Joy White's powerful book Terraformed (2020). As with sporting festivals, new transport networks double as a way of pumping huge quantities of public money into our only real industry, property. However much Crossrail might be useful (it is) and beautiful (it is, mostly), that is also very much what it's for.
In any case, the fact remains that much of what the network newly connects is seldom visited by people who don't live there. 'Welcome, young man', boomed a smirking, elderly Anglo-Punjabi gentleman at me outside Southall's new Crossrail station. He was right, I had never been to Southall before, even though my great aunt ran a caff here, until she made enough money to move to the Isle of Wight. West London is often deceptively suburban – the stretch from Ealing to Slough between the Great Western Railway and the Grand Union Canal became densely industrial in the 20th century. This industrial sprawl attracted one of my grandparents, who came here to work in one of these factories, and a little later, the Punjab-born grandparents of the people going about their shopping on a Southall afternoon. Look around the Crossrail station today, and you'll find the south side of the railway tracks is familiar – the same skyscraping brick-clad 'luxury flats' you can find in Whitechapel or the Royal Arsenal. But the north side is something else entirely, an intense, fiercely independent city-within-a-city, where 1920s Chinoiserie cinemas have been carved into shopping arcades full of jewellery shops, and comfortable cafes where people are very much living outside, in the 'Urban Renaissance' style, except they're drinking masala chai next to a 'Fashions' emporium rather than flat whites next to Foxtons.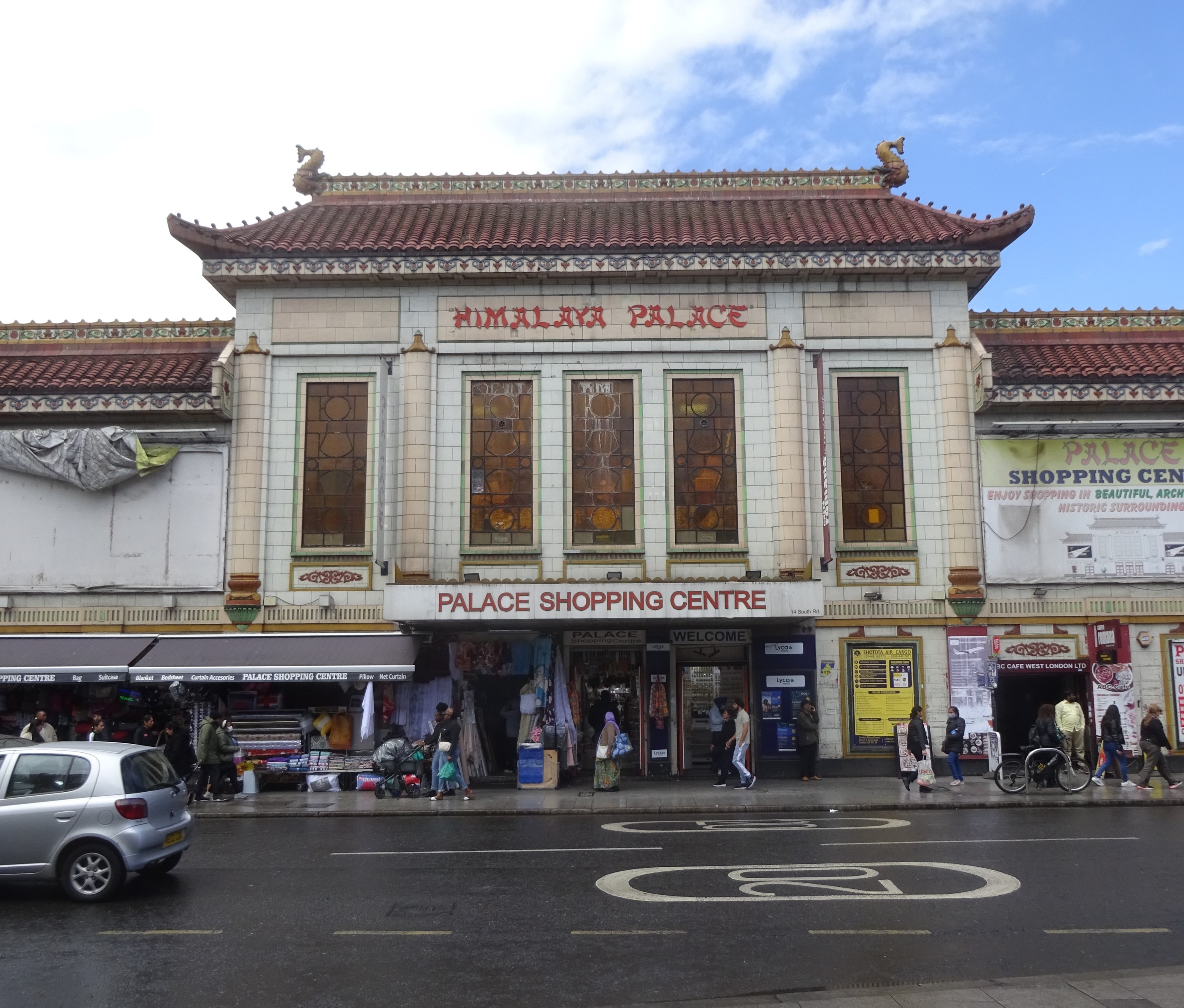 Another stop on, and you're in Hayes and Harlington, John McDonnell's constituency (with Boris Johnson's, in more affluent Uxbridge, on the other side of the tracks). Here, as in Woolwich, you're surrounded by what feels like every language and every nationality on earth, in a landscape of caffs and charity shops, loomed over by an astonishing Brutalist telephone exchange. But along the railway tracks, you'll see the property industry has been here, too. Factories in industrial West London were mostly a matter of light industry, consumer commerce – Hoover, Firestone, Gillette – and EMI. The record company's enclave of early 20th century, Detroit-style 'daylight factories' – great grids of glass and concrete – has been mostly turned into a long strip of 'luxury flats', currently devoid of any facilities aside from a gym and three estate agents. The Astoria may have been demolished and Denmark Street butchered, but music fans can rest assured that in Hayes, they can live in blocks of flats called 'The Venue' or 'The Record Store'.
There is a similar sense of two completely separate parallel worlds coexisting, for the moment, at Thamesmead, which is now finally served by a high-speed service at Abbey Wood (while under construction in the 1960s, this concrete New Town was promised a Jubilee Line station, which was meant to be completed in the 1970s). In a sense, Thamesmead is a cautionary tale of what happens when a part of London isn't properly connected to its transport network, with its photogenic clusters of towers along lakes and nature reserves – essentially a giant budget Barbican – gradually run down by successive owners after the GLC's 1986 abolition; some of its most impressive areas were demolished for vacuous and now dilapidated new flats in the 2000s.
In the late 2010s, in anticipation of Crossrail, the Peabody Trust, the venerable social housing developer, took the town over. It is subsidizing its repairs to the estate with swathes of new private and 'affordable' housing. A decent new library faces Southmere Lake, and the public spaces have been renovated for the first time in decades, but the plans also entail destroying much of what makes the place interesting, with the lakeside social housing towers under threat of 'decanting' and demolition (curiously, Peabody have also subsidized books and exhibitions celebrating the original architecture). There's a reason for this. Thamesmead is one of the last places an ordinary middle-class Londoner can conceivably buy property without courting bankruptcy, and it seems that serving this constituency by building private brick boxes on the lake is Peabody's interest here, rather than building the social housing the city desperately needs on Thamesmead's still abundant post-industrial brownfield sites. Transforming a fascinating social-democratic modernist failure into a mere commuter suburb in easy travelling time of Canary Wharf and Tottenham Court Road and Heathrow will seem like an improvement, to some.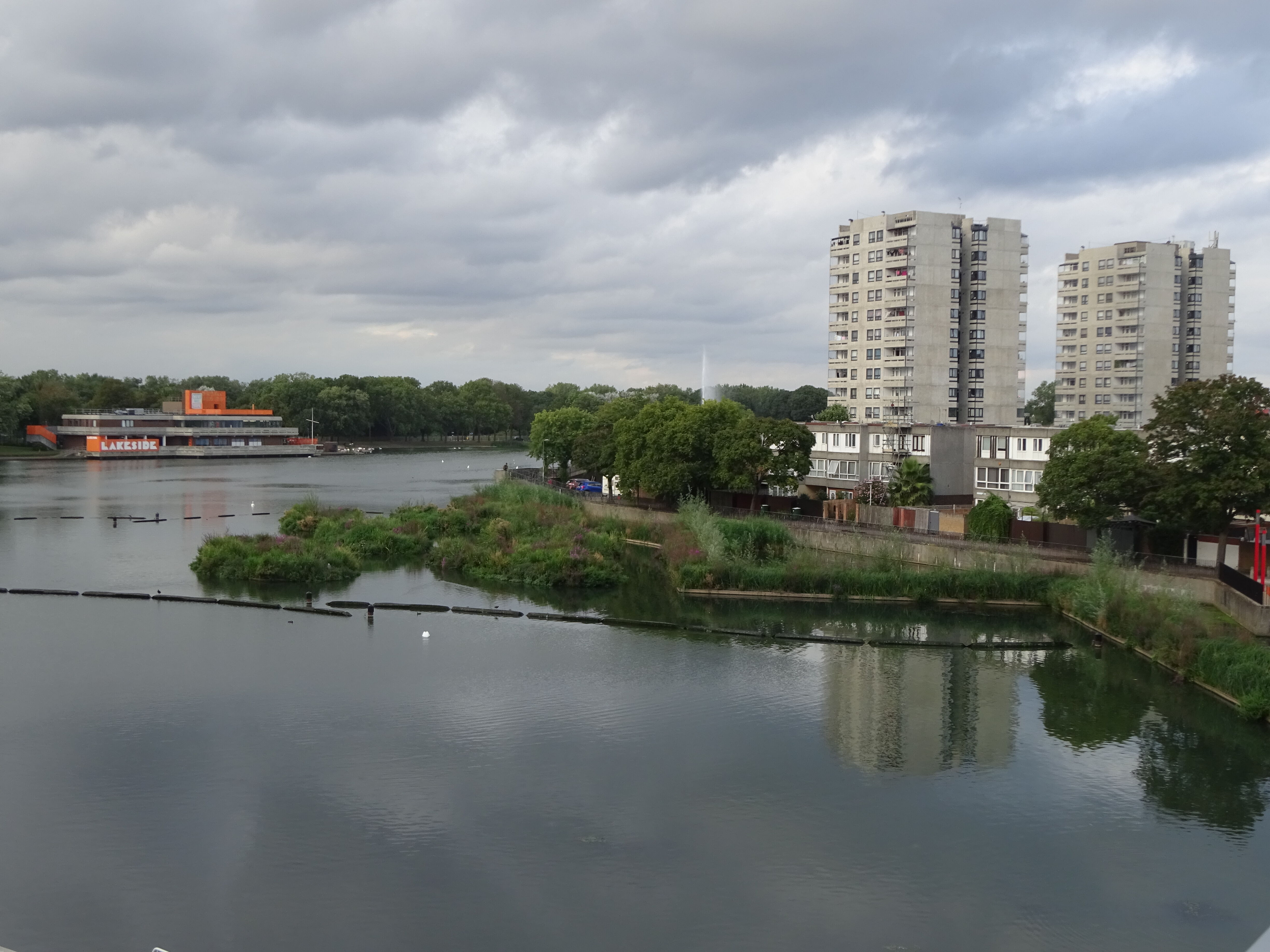 Now that it exists, Crossrail can be seen as multiple things, some good, some bad. It is a way of seeing how Boris Johnson's London Design Guide has created a thirty-mile linear city of brick-clad high rises along the old industrial belt of railways, the docks, the Thames and the canals. It is a gentrification superhighway, and a line which finally makes getting into town more bearable for working-class people living in Southall or Thamesmead. It is an attempt to finally erase London's east/west divides, and a convenient means for business travellers to get from Heathrow to Canary Wharf without spending two hours in a taxi. It is, as someone on twitter pointed out, 'the asian suburban experience line', connecting for the first time Slough to Southall to Ealing to Whitechapel to Ilford.
What I suspect it is most of all is the last piece of major public transport investment in London we will see in a very long time. TfL is being ostentatiously squeezed of funds, and like most of the railway network, it is not being given the government help it needs to recover fully from the pandemic – a situation of managed decline being fought by the rail unions in the forthcoming all-out strikes. TfL, though by far the most efficient and pleasant transport company in Britain's idiotically fragmented network, has been barred from pulling the last of the private railway lines in south-east London into the Overground; its bailout has been made conditional on firing staff; and in the week Crossrail opened, TfL proposed to close dozens of bus routes, including lines such as the 12 which I have never seen anything other than full in the 23 years I have lived in London. Crossrail may prove to be a great leap into the future in a network otherwise regressing to the pre-Livingstone era.
All this is being done in part to humiliate Mayor Sadiq Khan, who has still not been forgiven by the government for defeating the Tories so comprehensively in 2016 and 2021, not to mention his polite request for the power to institute rent controls (refused, with contempt, naturally). For all Khan's timidity, the intensity of development and the ever more surreal escalation of rents and house prices here in the last decade has quite unintentionally, 'built the Tories out of London', to a degree not seen since the London County Council of the 1930s under Herbert Morrison. That is to say, the majority of Londoners have had enough. Crossrail is a mixed blessing for them. It will intensify the nightmare for anyone trying to cling on to relatively affordable housing in Stratford, Woolwich or Whitechapel, but it will do something else, too. It will redistribute those who can't afford to live in these areas, and grant them to the last holdouts of Conservatism in and around the capital. The 'Elizabeth Line', with its naff royalist name, will be the agit-train that paints Maidenhead, Romford and Brentwood red. Perhaps when it does so, the Labour Party that currently dominates London to a degree not seen since the 1950s will be ready to imagine a less moronic way to run its public transport than as an expensively engineered rocket fired into the rent gap.
Read on: Owen Hatherley, 'The Government of London', NLR 122.